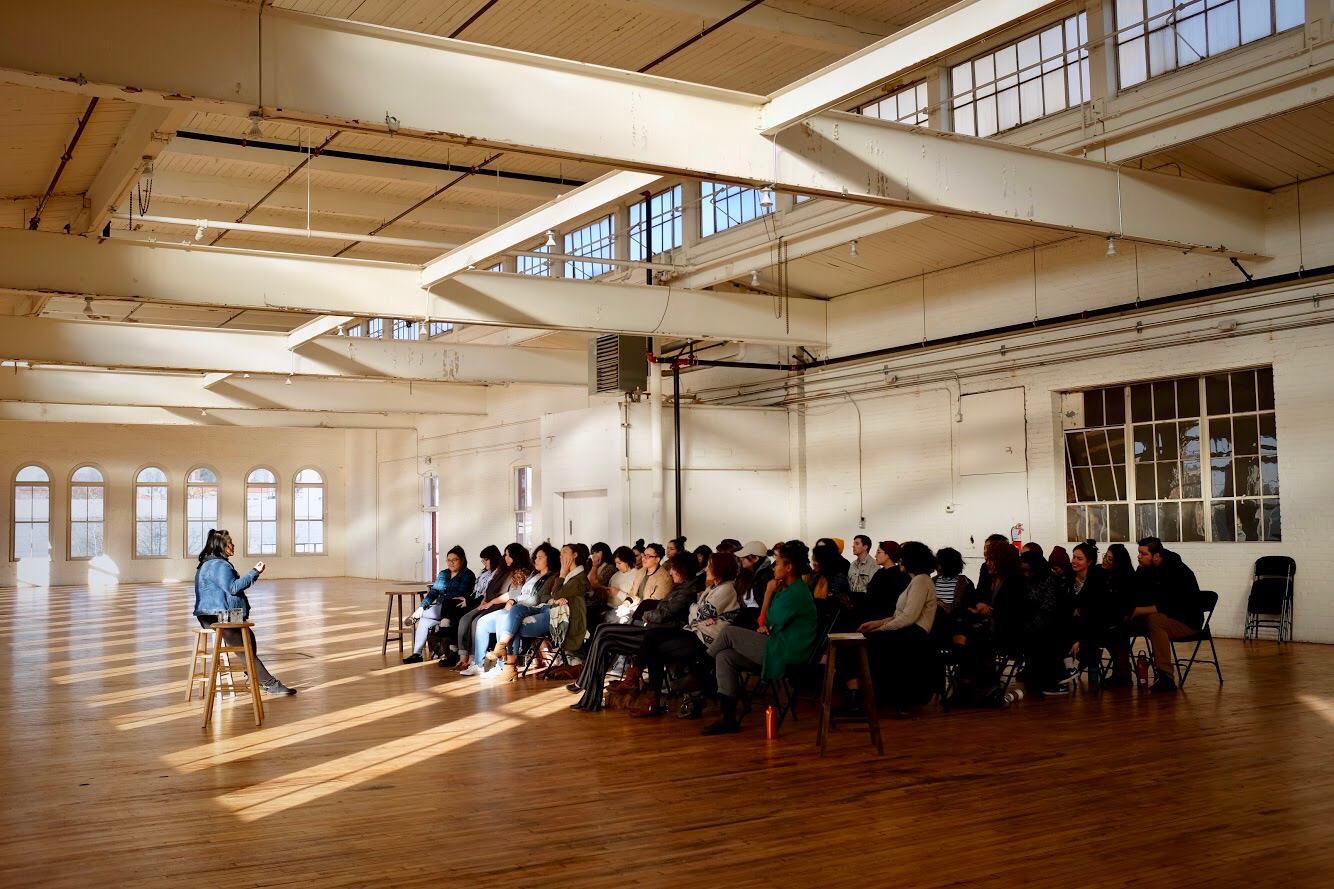 "…I believe in transformative traditions. I have to because as people of the diaspora, we were forced to readapt and reimagine. At one point, we had no word for giraffe in our vocabulary. That changed when we arrived in the U.S. 'Maaz jaang ndaauv'. If we can invent words for things that we never previously knew existed, I believe we have the ability to transform our thinking around gender, sexuality, and even mental health and disability. Especially when it means making space for the existences of countless people throughout our ancestry to finally be seen for who they are."
A joint report with Southeast Asian Resource Action Center (SEARAC) and National Asian Pacific American Women's Forum (NAPAWF) that tells the stories of Southeast Asian American women whose family members have experienced detention and deportation.
"…They are my chain smoking Khmu aunties in Laos
who puff tobacco through hand rolled cigarettes,
laughing on the sides of dusty Luang Prabang roads
at the colonizers with cameras who won't leave Them alone..."
"I see him in the buzzing crowd of big men.
Dressed in his usual, all blue.
His skin is deep brown from days spent in the sun.
He beams his bright smile and waves.
It's Dad."
"…Fingerprints a map of your peoples' past
Wrinkled palms show the mountains and
valleys that surrounded your great grandmother's village
Hair a waterfall down your back,
pouring life like those in your mother's land…"
"…Grandma's hands always made things grow.
From my round, brown body
to her backyard jungle
She fed us through that garden with
chive scrambled eggs after long days at school
pickled plums and fish sauce drenched fingertips in the summer
bamboo shoots and
bitter orange berries and
flowering cilantro…"
" …I think I do this through existing authentically and honestly as I am able. And by returning to what I've always inherently known as a result of my indigeneity. I carry my ancestors with me and in doing so, I live in their light and through their stories of survival. Even still, it took me a very long time to realize that the only true honor I could ever offer my people is through first honoring myself. And sometimes that has looked like living in resistance to the very same traditions that have informed our ways of life for centuries, like our heavily-fortified systems of patriarchy and gender-based violence…"
For me, storytelling has and always will be an inherent form of resistance; a way for me to bring myself, my people, my ancestors all into a room with me. It is an evolving tradition, one that has been passed down yet continues to transform as we unceasingly return to it, generation after generation. In the ways of our people, we are still telling our stories through song, through performance, through craft. We are also adopting new ways of storytelling, such as social media and through platforms such as this.
"…In the search for my Mien and Khmu cultural traditions, I have found that there is also ample room for me to honor my own. Nowadays I make it a point to bring my Khmu-ness and my Mien-ness into every space I enter. I cook Khmu and Mien food all in the same meal; I steam sticky rice, roast eggplants for jeow, while simmering lai maeng torng (greens soup) on the stove. I invite my friends–Southeast Asian, black, Latinx, queer, loud, weird and all brilliant– for dinner and we laugh, tell stories, smoke and drink together in the tradition of my ancestors before me. These are the moments that remind me that I am both Mien and Khmu, fully and authentically, without having all the answers… the same moments that help me to remember that I am already whole, while enabling me to continue recovering and discovering all of the pieces of myself that make me who I am…"
Best meals: My mom's cooking. And Southeast Asian food in general. Yes to all the fish sauce and fermented things.